180 LITE HOMEBUILT
KADEY-170
CF-PHC
2016/02/12
<![if !vml]>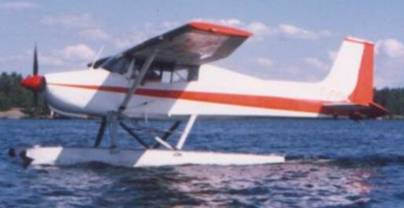 <![endif]>
<![if !vml]>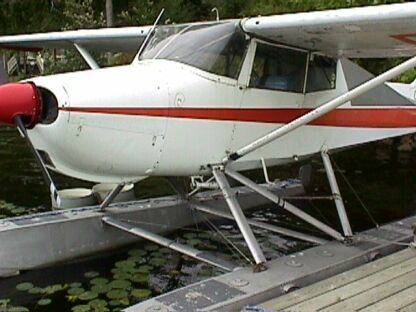 <![endif]>
All pictures of the complete plane taken before re-build started.
This is a unique yet very desirable airplane. With it you have all the benefits of homebuilt registration (reduced maintenance costs, flexible airframe mods) but with all the confidence of proven Cessna and Lycoming technology. While it is a one of a kind design, it has been proven over close to twenty years of use so you are not going to be the test pilot. Flown to Sun n Fun twice and northern Ontario several times.
The aircraft was first licensed in 1982 and has flown regularly and with no glitches until 2000 (450 total time). While I did finish and license the aircraft, the major work was done by someone else (Harold Kadey).
Performance is excellent. Handling is just like a 180 hp Cessna 170.
Here are the specs:
180 Lycoming with CS McCauley prop (zero since inspection on prop), Fresh $5000 Leggat top on engine: all cylinders (engine is 320 SMOH in early 80ís zero since top and internal inspection). It is a very smooth running 180.
2425 floats with dual water rudders and pump outs (These floats and rigging came off an early Cessna 180 and fit with no changes.) They need paint and bumpers and I havenít looked at them in a few years.. 2425ís provide good flotation and are a flat top float.
Construction: Fabric covered steel tube fuselage same dimensions as 170/172
170B wings with STOL kit and large manual flaps
Metal wing tanks (35 gallons, fuel gauges are mechanical with indicators in the ends of the tanks visible form the cockpit).
The fuel selector is Cessna but mounted on the back of the firewall with handle on the lower instrument panel beside trim wheel.
All control surfaces are metal.
180 gear, Cleveland brakes, Scott tail wheel
3 or 4 seats, huge baggage area, 6í flat floor for camping (over 8.5í from rudder pedals to back of baggage area).
Baggage door added on left,
Metal access panels behind cowl and at tail (Iím redoing the whole boot cowl),
New ľĒ Cessna windshield (no center strap)
Cessna wing struts
Cessna lower cowl and nose bowl but Piper style upper cowl with two large doors that provide wide open access to engine.
Each cabin access door is split horizontally with top hinged at top and bottom hinged at front).
172 straight tail; 172 balanced elevators, trim tab and rudder. Cessna trm wheel mounted below instrument panel.
New fabric, windshield, most cables, hardware, plumbing
Tubing oiled internally
Four place intercom
720 channel radio. Basic panel but room for full gyro.
Minimal interior (painted covering fabric like Cub)
Registered homebuilt.
Most replacement parts Cessna and Lycoming
Empty weight about 1400 on wheels. A friendís recently rebuilt 170B weighed 1445 with the 0-300 engine and fixed pitch prop.
<![if !vml]>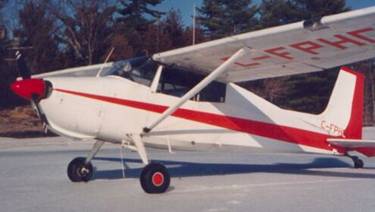 <![endif]>
The nose slopes down a little more than a Cessna so over the nose visibility is excellent both taxiing and in flight.
<![if !vml]>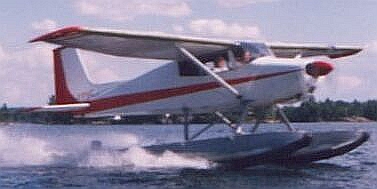 <![endif]>
<![if !vml]>

<![endif]>
<![if !vml]>

<![endif]> In this picture the tail of the plane is off the ground on a bipod to make the cabin floor level for sleeping during one of the Sun n Fun trips
<![if !vml]>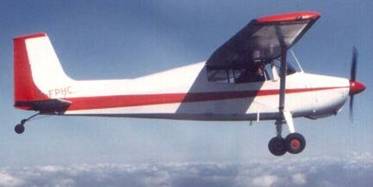 <![endif]> Here the plane is also in Florida during another Sun n Fun trip..
<![if !vml]>
<![endif]>
<![if !vml]>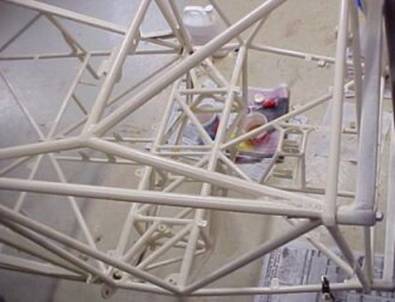 <![endif]> This shot shows that the plane has been totally stripped down. You are looking down through a point between the firewall on the right and the location of the instrument panel on the left. The truss below is for the gear attach: quite rugged. The containers are catching tube oil. Next is the interior fabric going on.
<![if !vml]>
<![endif]>
Above, covering is on but not taped; have the new windshield and have picked up the ďnewĒ engine.
Below the covering is finished and UV block on. The wings and tail are 2/3rds stripped now.
<![if !vml]>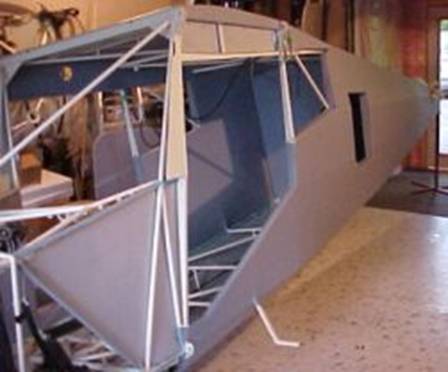 <![endif]>
Update 02 2016
Wings and tail surfaces stripped and painted
Wings having WingX or ART wing exxtensions installed
New firewall cut and boot cowl being re-worked
<![if !vml]>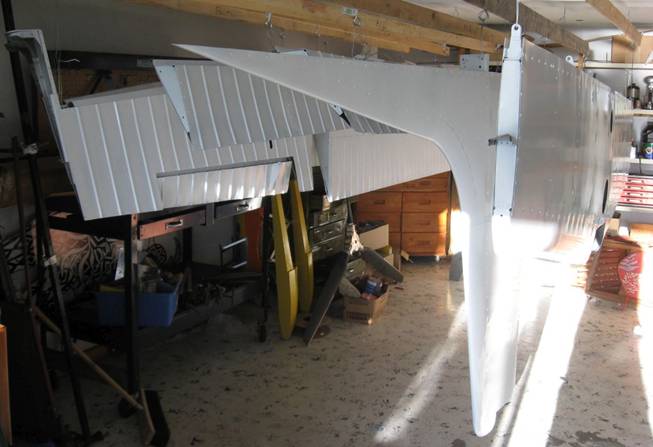 <![endif]>
<![if !vml]>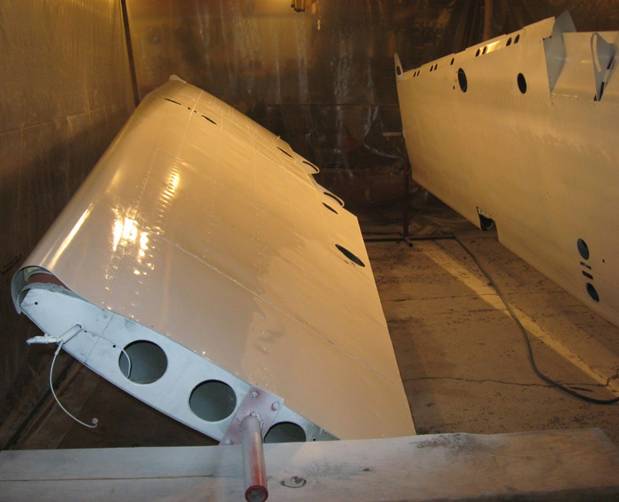 <![endif]>
Here are some of the firewall forward parts:
<![if !vml]>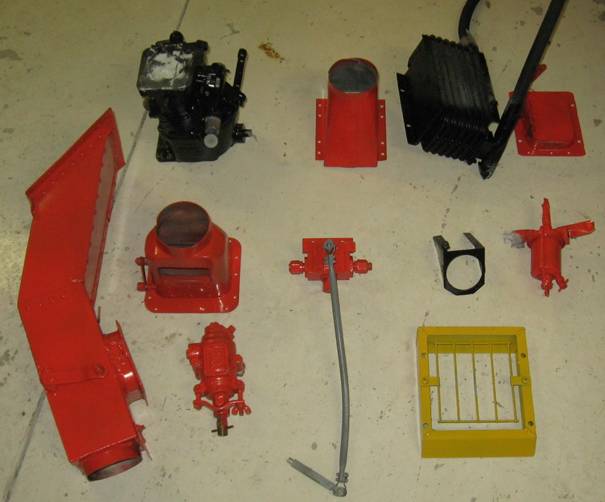 <![endif]>
The plane is located in south eastern Ontario near Peterborough.
705-877-8404
Answers to other questions Iíve received:
What is history of engine?
The engine came out of a Piper Comanche in the 80s. The guy was
upgrading to an 0540 which I had at the time. We made a trade and
he put the engine through his shop, Alaskan Aero engines. It was
majored and I have all the doc on that. I didn't install it until
a few years later (1983). There was a 180 engine with the plane when I got it but I did not have any history on it so when this engine came along I thought it wise to put it in. Iíve put 320 hours on it. Since use was sporadic in later years I thought it would sell
better if it went through a shop for a top and internal inspection.
Prop is 74.5Ē McCauley constant speed
Why did I take the plane apart?
There were no significant problems (nor any damage history) when I took the plane out of service, just a few improvements needed. There had always been some binding in
the elevator around neutral. This was because of a minor
misalignment of the elevator control horn pivot which I fixed.
Getting to the back of the baggage area was a pain so I've put in
a frame for a baggage door on the left side.
I didn't like the way the tail spring exited the fuselage and it was difficult to remove it for floats so I
reworked it.
The tail wheel steering cables needed fair leads.
The windshield was getting scratched.
There will be a long metal inspection panel at the tail to make it easier to get at tail spring and cables for float change over.
There won't be a fancy interior if any in it just regular covering fabric painted.
The top fabric goes right to the windshield. To strengthen the fabric just aft of the windshield Iíve added about 16Ē of metal. When refueling with cans on floats it is sometimes handy to set a can in this area or even to slide across to the other side.
Performance:
Cruise on wheels is about 130 depending on power setting; on
floats 115 to 120.
Previous empty on wheels was 1425 I think; current gross is 1985 (the max available for a homebuilt when I licensed it in 1982)
but pretty sure I could get 2400 now.
It may come out a bit lighter this time.

On one fishing trip to Chapleau on floats we had three guys and gear with no problems. Another time, my son and I refueled at Orillia on floats. A 180 landed, dropped his passenger, did not refuel and took off with just the pilot. We noted his take off time and distance. When we then took off we compared our time and distance and found that we were a few seconds longer but used up less distance and we definitely had more load. Granted a 180 would be a better performer with heavier loading with its 50 extra horsepower but this one is not far behind.