Serendipity and Rans S-7 number 10 and 11
serendipity (good luck in making unexpected and fortunate discoveries)
Since April of 2003 when I flew in and, of course, had to buy my first Rans S-7, my ďaffairĒ with the S-7 has been full of serendipitous events.† Even my wife commented as we were towing home S-7 #11, that I lead a charmed life.
Rans number one was a Burkhard Woelkyís Nova Scotia creation (his first of maybe a dozen) and as we helped get it ready for my first Rans checkout, I saw another S-7 parked nearby. It was Woelky # 2 and not exactly for sale then. I would have preferred his # 2 because it had a 912 while #1 had the 2 cycle 582. But since that 582 provided excellent performance in this new breed of light plane, I was quite happy to load it up to take home.
Below is #1 with clamp-over-the-wheels skiis during the winter of 03/04.
<![if !vml]>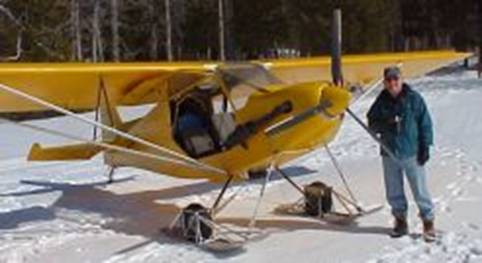 <![endif]>
That purchase was the beginning of a long series of experimentation with this marvelous aircraft that provided just the performance I wanted in a floatplane. Rans has made a huge number of changes over the years to the early S7 that came out in 1985 and, although I didnít know it at the time, # 1 which was a 1998 model was a highly evolved version except for that 2 cycle engine which does not have the best reputation for reliability. To get more reliability, I had to move up to a 4 cycle 912. My belief is that it is not usually economically sound to do an upgrade but better to sell what you have and buy one with what you want. So, with that in mind, I sold #1 to get another S-7 with a 912.† That was the start of a long series of transactions which allowed me to experience most of the Rans versions of the S-7.
Last Fall when I was selling S-7 # 9, one caller mentioned there was a Rans for Sale in Nova Scotia and guess what?† It was the Woelkey # 2 I had seen 6 years earlier. I didnít know it was for sale. I told him it was a good plane and he should buy it but he couldnít negotiate the right deal so I bought it. Somehow it just seemed right that 6 years later I should own the second Rans Iíd seen when it was built by the same guy who built # 1. It is 2000 model and a very nice flying S-7 although, without any cabin heat, it was a cold trip for my wife and I flying back from Nova Scotia in October.
<![if !vml]>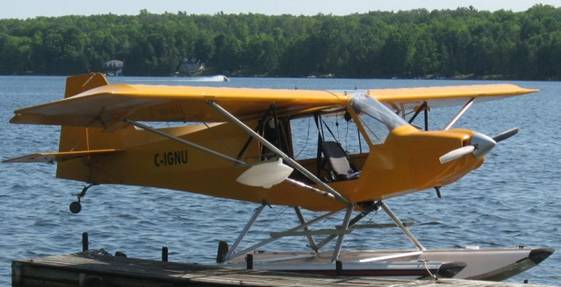 <![endif]>
To me,† this seemed to be serendipity but wait til you hear about† # 11.
Rans builders and flyers discuss their loves in a Yahoo userís group. Back in 2007 a guy by the name of Ed Miller announced he had bought an uncompleted S-7 project and had some things to discuss. While the S-7 is a next to perfect flying machine, in my mind there are a few minor improvements/changes that are worthwhile. As Ed talked about what he wanted to do, I realized he and I had similar interests. He didnít like the accessibility of the battery. He wanted to have an easily removable instrument panel. He needed better cabin heat and an improved flap handle etc. etc.
Ed and I talked by phone a few times and I planned to visit him at some point. His was not for sale but I felt a visit to such a kindred spirit would be worth while. In the Fall of 2007 I was working on a purchase of the top of the line S-7S model in Utah and Ed agreed that I could come by as I passed by Chicago on my way back in February. He was off on a business trip to Japan (I think) but would return in January.
In the second week of February 08 we stopped for gas in Kankakee Illinois which was just a few miles from Ed. It would have meant an overnight there and we were getting anxious to get home so I decided that while a visit would be nice, it just was not the right time.
Later that month I tried to contact Ed but without success. He also stopped internet activity and didnít respond to my email.
In the summer of 08, another guy, Brian Olofsson, joined the Rans group and began asking questions about an S-7 after having purchased a partially completed project. He was from Kankakee. Hmmm. It didnít take long for me to contact Brian and I soon realized he had bought Edís project. Ed had returned from Japan, contracted a fatal disease and died within days of his return.
OK so not everything works out for me and thatís life.
Curious to hear how Brian was doing with the project, I contacted him a month or so ago. Brian is a busy guy. Not only is he an MD but he is also crazy about flying and an entrepreneur. He recently sold the flight school at the Kankakee airport but still owns six aircraft including a twin Comanche and other Pipers he leases to the flying school and a Stearman bipe and a Yak he flies for his own pleasure. Deep down he also loves the Cub and hence his purchase of the S-7.† Here he is ready to head out in the Stearman.
<![if !vml]>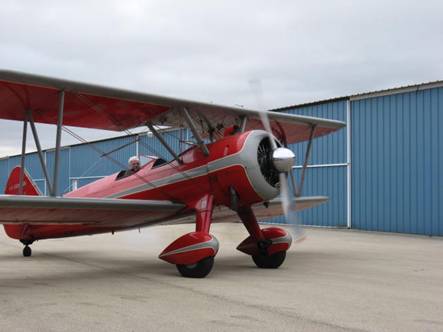 <![endif]>
It turns out, however, that he hadnít got to the S-7 project yet and was trying to work out some better way of getting it finished. After a couple of weeks of negotiation, Brian and I worked out a mutually agreeable arrangement and we headed off to Kankakee. I must say that my first impressions on entering Brianís hangar were less than favourable. Brian himself describes it as the ďskid row of hangarsĒ. There were piles of boxes intermixed with parts for other aircraft in a small room. On the ceiling of the room were the dusty fuselage and wings of the Rans. Buyerís remorse began to set in. Soon, however, as I saw all the things that Ed had talked about like the rear side access door for a tool kit to offset the weight of a forward battery, the lexan panels nicely set in to the fabric in the lower part of the doors, his beautifully finished panel with wiring harness ready to plug in and so much more, I realized that this was a very special S-7 project. So, my wife Lexy and I began the long process of preparing it and my trailer for the move, a 12 hour drive.
It took us two and a half days to get it all packed (Iím slow). Here it is ready to roll:
<![if !vml]>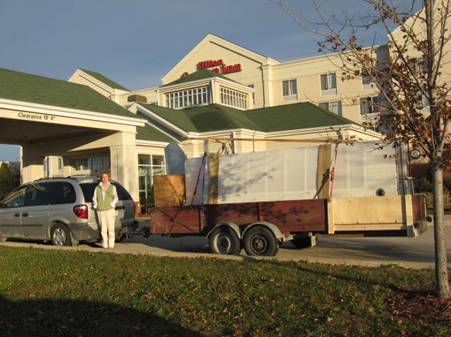 <![endif]>
Thatís Lexy after she packed what Brian described as three pickup truck loads of parts, including the engine, into our van with room to spare. No, thatís not our driveway. We are just heading out from Kankakee.
So, three years after talking to Ed about all the great things he was doing with his S-7, I can now experience them first hand and will get to be the first one to actually fly the plane. Just how serendipitous is that?
Now let me tell you why my wife also loved the trip even after three days of working in a grubby hangar (sorry Brian) packing up all those parts. She likes architectural things and so planned a side trip with some tours to Chicago on the Saturday. But, the damned plane packing took so long and we really wanted to be back by Sunday night so she had to cancel the trip. Well, it turns out that as she mentioned this disappointment to the Olofssons, they knew there were a couple of buildings designed by Frank Lloyd Wright right in Kankakee. Lexy was ecstatic and took a tour right there making the trip a huge success for her which, of course, meant that the trip was even better for me!† Even more serendipity!
What also made this trip worthwhile were the great conversations we had with Brian and his wife Cheri. Building and flying is only part of the pleasure that playing with airplanes brings.